Honduras' World Cup debut against Chile
June 15th, 2010 | by: X-ino |

View Comments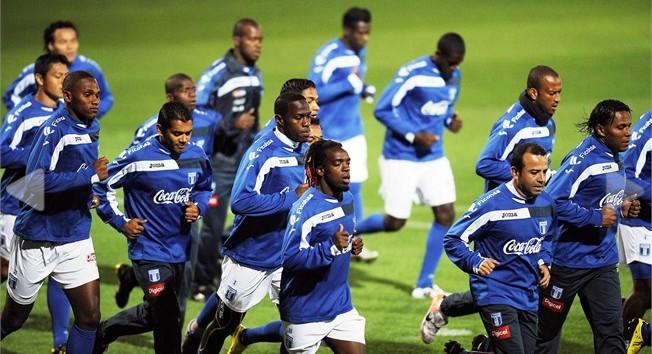 THIS IS IT!! HONDURAS, THE TIME HAS COME! THE TIME TO DEMONSTRATE WHO wE ARE! TIME TO DEMONSTRATE WHAT WE'RE MADE OFF! A TIME TO LET THE WORLD KNOW WHO IS HONDURAS!

With just 9+ hours to go for our first match at the World Cup after 28 years, there is a lot of controversy going around our team.
We finally have a word that Wilson Palacios is finally fit to play against Chile. Extremely good news.
As for David Suazo , it is unsure of his whereabouts. Some sources state he is fit for play while others say that Rueda will not risk him on this first game. I believe Suazo will be on the starting eleven team.
Just today we received a miserable notice concerning that Julio Cesar "Rambo" de Leon will definitely be absent in this World Cup due to a muscle injury in his right leg. Here is what "Rambo had to say: "…Goodbye to my World Cup dream. God bless our holy flag." Terrible loss. Stay strong "Rambo".
Jerry Palacios has been called up, just hours away from our debut due to "Rambo's" withdrawal from the World Cup.
As for the game tomorrow. Honduras and Chile have played on five occasions. Chile has won three times, twice for Honduras. The last time they played, it was a victory for "Los Catrachos" by 2-0, early 2009. These numbers tell us that it is a fairly even match which gives us hope on adding our first three points in World Cup history.
At the last training session before our debut, the atmosphere among the players, managers, staff and fans is all about optimism and joy.
Turning our side now to our rivals, Chile. Manager Marcelo Bielsa has a starting eleven set except for the strikers, due to Humberto "El Chupete" Suazo's recent hamstring injury. He is definitely a key player for Chile, being the top scorer in the South American qualifiers with 10 goals. It is probable that Humberto "El Chupete" Suazo will start out on the bench at tomorrows game, making it possible for him to jump at the pitch during the second half.
Chile has not won a match at the FIFA World Cup since they hosted them in 1962. Which means they are more than eager to break such a poor record. Although this shouldnt be anything to rely on for Honduras.
Back with our team
Manager Rueda has some words as for Chile: "Chile plays a different brand of football to most countries and you have to be very intelligent to match them," is the warning he sends to his team, a team prone to defensive lapses.
There is no turning back. The 28 years waiting for this one day, has finally arrived. This day, is a day Honduras wont forget. All of the preparation since Manager Rueda took over the team, will have to be demonstrated at the pitch. All of the hard work for the past two years will be challenged.
Even though the game will be at 5:30 am, Honduras time, that wont stop the more than 8 million Honduran population to stay put in front of a television, watching their eleven players battle at the field. That is the soccer atmosphere that our country characterizes of.
HONDURAS, ITS ALL IN YOUR HANDS! NO TEAM IS UNBEATABLE! AGAINST ALL ODDS, WE CAN DO IT! THE WHOLE COUNTRY IS BEHIND YOU! AGAINST ALL INJURIES, AGAINST OUR POLITICAL ISSUES, NOBODY IS STOPPING OUR WORLD CUP DREAM!!
PLAY AS A TEAM! ITS ALL ABOUT SACRIFICE!! UNITED WE ARE UNSTOPPABLE! WE HAVE A LONG ROAD AHEAD OF US!!
LETS GO HONDURAS!!! "VAMOS CATRACHOS"!! ITS TIME TO DEMONSTRATE WHO WE ARE!!!
"Some people say soccer's a matter of life or death, but it isn't. It's much more important than that."
Here is a short video I believe you all should take a look at:

Subscribe

Honduras World Cup Team Blog RSS Feed

Share
blog comments powered by Disqus